On-demand carpool for Johor – Singapore commuters
Sameride App expands to Johor – Singapore, so commuters can find carpool partners on-demand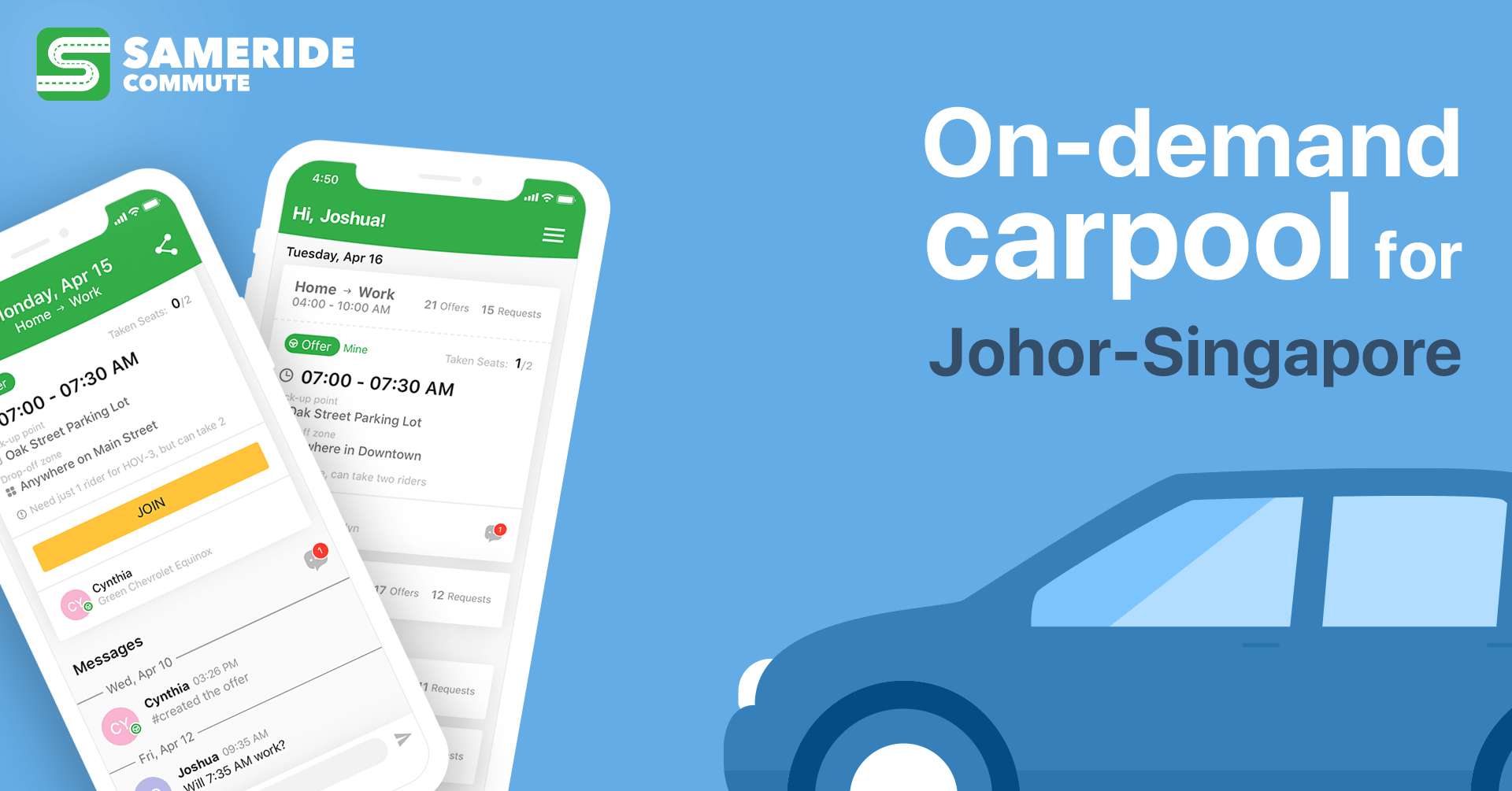 SINGAPORE, December 30, 2019 – Sameride announced its launch for Johor-Singapore commuters. Free Sameride Commute App helps find on-demand carpools for a faster commute between Johor, Malaysia and Singapore.
Over the last 2 weeks almost 300 Johor – Singapore commuters have pre-registered in the app. Sameride is expecting that the app will be fully operational for Johor-Singapore commuters starting December 30, 2019.
Sameride is an on-demand carpool app enhancing ride communication among drivers and riders commuting on the same route. Often neighbors who happen to work in the same location agree to ride to work together. Sameride app opens up a much larger commute sharing space.
Sameride App for Android and iOS allows commuters to offer or request rides making them visible to relevant commuters. Sameride App users have the flexibility to be a driver or a rider, set their pick-up time and locations, create ride offers or requests a few hours or a few days before their commute. No long-term commitments of established carpools are needed. Using the app, drivers reduce the costs of their commute and riders benefit from getting fast rides between their homes/parking lots and offices.
Currently, Johor-Singapore commuters get most rides from drivers who are not commuters. Sameride App is focusing on drivers and riders who are commuters themselves featuring 2 daily ride offers and requests between home and work areas. The app matches commuter by their commuting routes that are defined by home and work areas of possible pick-up and drop-off locations. In addition to that, Sameride App has a flexible and adjustable notification system allowing to fine-tune notifications according to commute schedules.
According to Sameride, the main purpose of the app is to establish sustainable communities of commuters who carpool on-demand. For over 30 years such communities, known as "casual carpools" or "slug lines", are helping their members to commute in metro areas of the US such as Washington, DC, San Francisco, CA, etc.. As a result, thousands of commuters are getting to work and home faster and either free or at a shared cost, reducing the number of cars on the roads.
Sameride estimates that the app users who commute between Johor and Singapore will be able to significantly reduce the cost of their commute up to 50% compared to taxi services. The longer-term effect of Sameride App operations on Johor-Singapore commute will be the reduction of traffic on causeways between Johor and Singapore.
Sameride App is available globally. The first commuter route has been established by Sameride in 2016 in the Washington, DC Metro Area of the US serving commuters between Woodbridge, VA and Tysons Corner, VA.
On-demand carpool for fast and low-cost commute. Register at https://www.sameride.com
Tweet
Download free Sameride app from App Store or Google Play